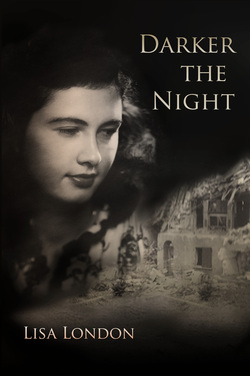 Do you wonder what it would have been like to live in Germany in Hitler's reign?
Inspired by true-life events,
Darker the Night
follows Hedy Weiss as she plays in the hills of Western Germany with her Hitler Youth group through her teenage years wanting to assist in the war effort. Instead of learning to become a physical therapist to help the wounded soldiers, the Nazis send her to work on farms and to build airplanes. She finds herself battling hunger, dodging bombs, and facing the enemy tanks.
As the war comes to a close, her pride in her country is shattered by what she has experienced and the news of the Nazi atrocities. Her father reminds her, "The darker the night, the brighter the stars."
Is her star the charming Counter-Intelligence Agent who keeps appearing in the oddest places?
HISTORICAL FICTION
ISBN: 9780991163557 Trade Paper
286 pages, US $18.95
ISBN: 9780991163564 Large Print
502 pages, US $24.95
ISBN: 9780991163571 E-Book US $ 9.95
PUBLISHER: Deep River Press, Inc. WEBSITE:
DarkerTheNight.com
---
---
The Accountant Beside You series for Churches and Nonprofit Organizations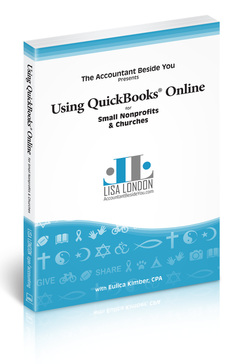 Just released!
Lisa has teamed up with CPA Eulica Kimber to explain how to use QuickBooks Online in a nonprofit organization or church. With the step-by-step instructions and hundreds of screenshots The Accountant Beside You series is known for, anyone can set up and run the accounting system for a small nonprofit.
Includes example chart of accounts for scouts, civic clubs, associations, private schools and more.SBN: 978-1-9455610-2-3 Trade Paper
245 pages, US $24.95
E-book also available.
PUBLISHER: Deep River Press, Inc. WEBSITE:
AccountantBesideYou.com
---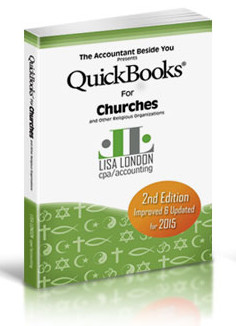 In her flagship book,
QuickBooks for Churches & Other Religious Organizations,
Lisa London walks readers through QuickBooks for churches from start to finish, complete with examples, terminology, and everything a busy church administrator or bookkeeper needs to know.
This church accounting guide to QuickBooks provides step-by-step instructions on how to set up or improve QuickBooks for your house of worship with hundreds of screenshots. The book also provides best practices and recommended procedures and internal controls to ensure sound church accounting.
ISBN: 978-0-9911635-4-0
Trade Paper
315 pages, US $24.95
E-book also available.
PUBLISHER: Deep River Press, Inc. WEBSITE:
AccountantBesideYou.com
---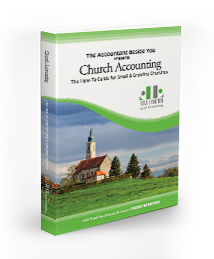 Church Accounting: The How-To Guide for Small & Growing Churches
is a must-have reference for all the nuts and bolts of church accounting.
Learn to set up accounting spreadsheets and the different types of accounting packages as well as how to incorporate internal accounting controls to safeguard the church's funds. Additionally, The Accountant Beside You will show you how to: calculate and file employee payroll without paying for an outside service, design and implement a compensation package for your minister, including a housing allowance, set up and administer a benevolence fund, and so much more!
ISBN: 978-0-9911635-3-3 Trade Paper
195 pages, US $24.95
E-book also available.
PUBLISHER: Deep River Press, Inc. WEBSITE:
AccountantBesideYou.com
---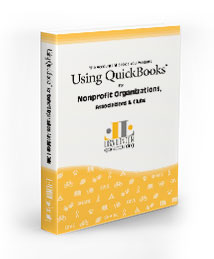 Let the Accountant Beside You help your nonprofit!
Using QuickBooks for Nonprofit Organizations, Associations, & Clubs
will step you through the process of setting up an accounting system for your small nonprofit, association or club. Includes hundreds of illustrations and example Chart of Accounts for private schools, scout troops, civic clubs, PTAs, and associations.
ISBN 978-0-9911635-1-9306 pages, Trade PaperbackE-book also available.
PUBLISHER: Deep River Press, Inc. WEBSITE:
AccountantBesideYou.com
---