---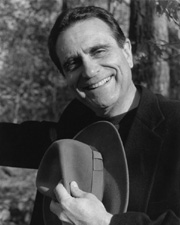 ---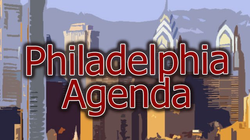 ---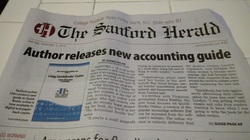 The Sanford NC paper had a lovely front page article about Using QuickBooks Online for Small Nonprofits & Churches.


---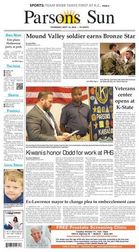 ---
---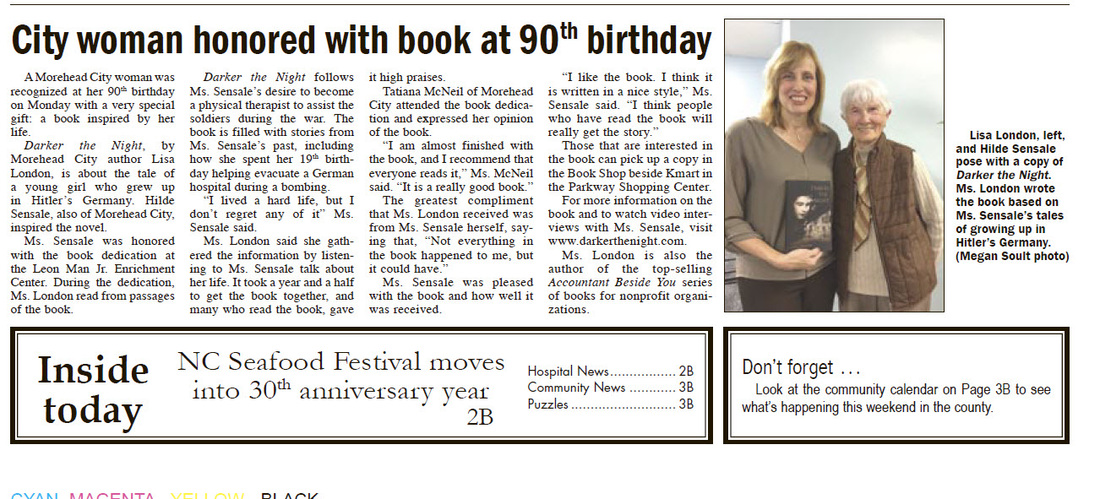 ---
---
Press ReleaseMY NEIGHBOR WAS A HITLER YOUTH
www.DarkerTheNight.com
MOREHEAD CITY, NC—Author Lisa London will debut her historical novel,
Darker the Night
, on February 8, 2016 in honor of German war bride, Hilde Sensale's, 90th birthday.
London, author of the top-selling
Accountant Beside You
series of books for nonprofits and churches, was inspired to write
Darker the Night
after her friend, Mrs. Sensale, spoke of enjoying the outings of her Hitler Youth group. "It was fun. As young girls, we were allowed to go play in the mountains and do things proper young women weren't supposed to do."
After encouraging her friend to share more stories, London realized the importance of a story from the perspective of a German civilian.
Darker the Night
follows Hedy's desire to become a physical therapist to assist the soldiers as she is thwarted time and time again by the Nazis. Instead she must assemble airplanes, dodge bombs, battle hunger, and stand up to invading tanks.
As the pride in her country is shattered with the news of Nazi atrocities, Hedy's father reminds her, "The darker the night, the brighter the stars." Is her star the charming American Counter-Intelligence Agent who keeps appearing in the oddest places?
D. Dovovan, Senior Reviewer
Midwest Book Review
said the story has,
"…a stunningly realistic, absorbing quality that will make it a powerful juxtaposition to
Diary of Anne Frank,
recounting the youth experience from quite a different vantage…"
Each chapter begins with a historical quote or piece of propaganda. "I want the reader to get a feel get a feel for what was influencing the average German citizen at the time the time," said London. Video interviews with the woman who inspired the story are available at
www.DarkerTheNight.com
and
Youtube.com
.